Discover Makry Gialos
Mountain activities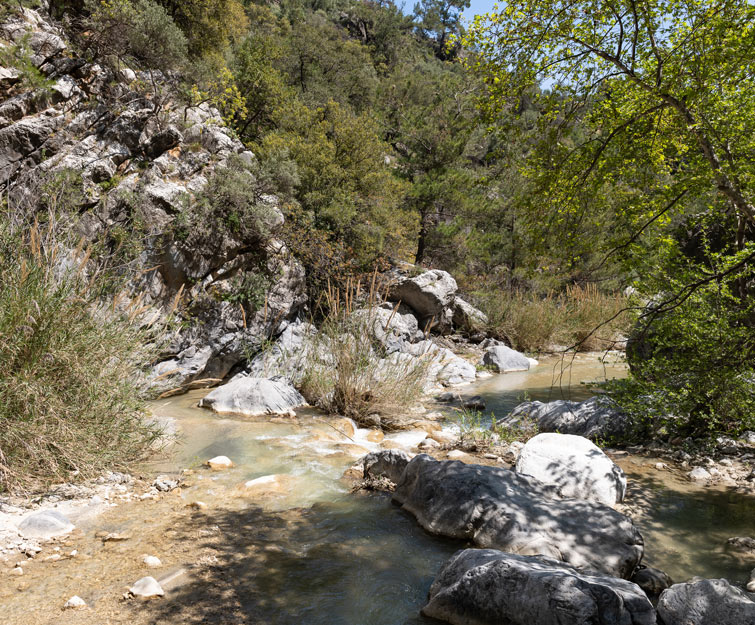 Hiking (Gorge of Ai Giannis Kapsa | Pefki Gorge | Sarakina Gorge)
The area is also a paradise for hikers, as they discover passable routes through the peaceful Cretan nature, very close to Makrys Gialos. One of the most beautiful hiking trails crosses the 2 km long imposing Pefki Gorge with its rich vegetation and impressive formations. It starts from the village of Pefki and ends at the restored picturesque settlement of Aspros Potamos, 2 km north of Makrys Gialos. Also, the wild and imposing gorge of Ai Giannis Kapsa [or Pervolakia Gorge] is located 8-9 km east of Makrys Gialos. With a length of 4-4.5 km, it is an easy and passable route of about 2 hours, which starts from the village Pervolakia to end at the Monastery of Agios Ioannis Kapsa [15th century].
Extremely fascinating is the 1.5 km long walking Sarakina Gorge, near Myrtos, with rich vegetation, lakes and waterfalls.
On the west side of Mount Thrypti is formed the imposing Ha Gorge, which is considered the most beautiful artificial gorge of Crete as it carries the water collected in the plateau of Thrypti in the Isthmus of Ierapetra, which then flows into Pachia Ammos beach.
Zakros Gorge or as the locals call it Gorge of the Dead, is a beautiful and passable gorge named after the ancient Minoans who used the caves in the gorge's steep walls to bury their dead. The gorge is the last part of the European path E4 and leads to Kato Zakros.
Richti Gorge is located on the north side of the Prefecture of Lassithi, between Agios Nikolaos and Sitia. The gorge can be crossed in three to four hours on foot and along the way you can find countless plane trees, oleanders and sage trees with the aromas of aromatic plants constantly alternating. 
Mylonas Gorge is located on Mount Thrypti, about 18 km east of Ierapetra. The giant waterfall of 20 m. is undoubtedly the biggest attraction of the route, which ends most people who visit the gorge.
For mountain bike lovers, there are several opportunities for mountain biking in most of the above cases, with the most common excursions to the northern slopes of Mountain Dikti (prefecture of Lassithi), on relatively easy routes.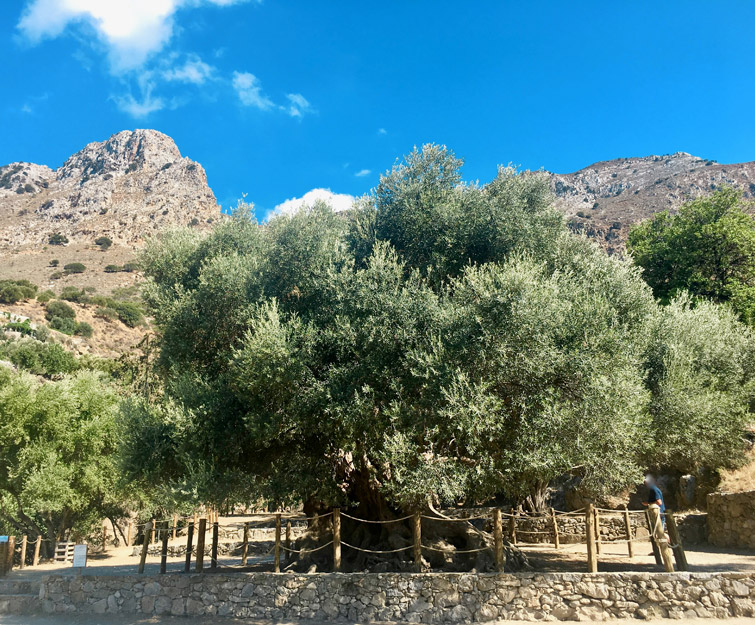 Speleology & Monument Trees
For those who love speleology, 10 km from Makrys Gialos, there is the interesting Vreiko cave, with traces of the Neolithic era and stalactites and stalagmites of rare beauty. You can visit it in combination with hiking in the village of Pefki.
A unique attraction is the Azoria Olive, which dates from 1350 to 1100 BC and is located 1 km south of the village of Kavousi and very close to the homonymous archaeological site. This particular olive tree is a natural monument and is the oldest olive tree in the world. In addition, it is grafted on a wild rootstock, being the oldest grafting specimen in the world.