Discover Makry Gialos
Daily cruises & excursions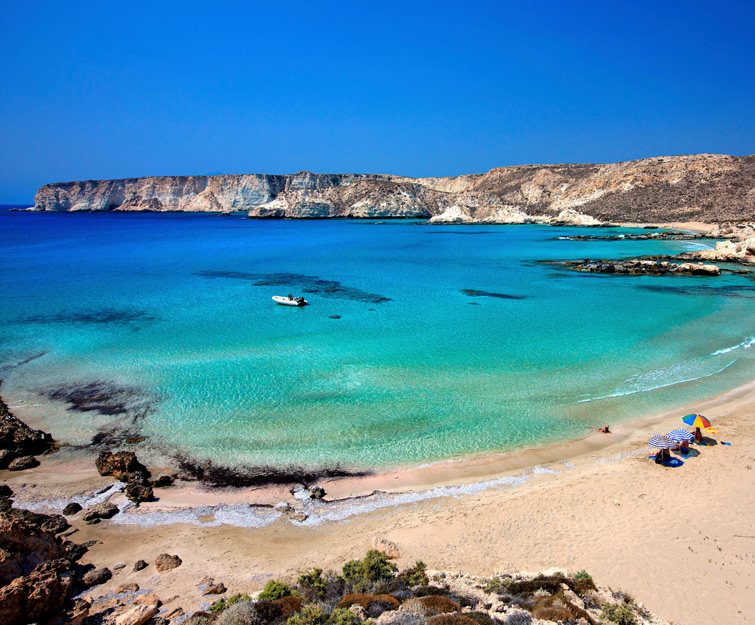 Koufonissi | Porfyra Island | Lefki
Near the southern coast of Eastern Crete, opposite Makrys Gialos, visitors discover an island treasure, the history of which dates back to Minoan times. This is the island of Lefki or Porfyra (purple dye), which the archaeologist Nikos Papadakis has characterized as the "Delos of the Libyan Sea", as the archaeological dig had brought to light traces that certify a strong and very well organized industrial center for the production of purple from the early Minoan era [2600 BC] until the 4th century AD, when Lefki was destroyed from unknown causes.
The island flourished with the development of the industry of the precious dye derived from the purple oyster (gastropod Murex trunculus) that gives the deep red color with which the clothes of kings and emperors were dyed. The value of purple is reflected in the, not at all random designation "born in the purple", given to children of emperors. Arriving there, you will be impressed by the white soil and white limestone rocks carved from the sand, sea, and wind, giving the island another name: Koufonissi. During your wandering, you will find the ancient stone theater built overlooking the sea, the imposing building of the Public Baths, traces of houses of the ancient settlement as well as parts of a very ruined temple.
Apart from its unsurpassed historical value, Koufonissi offers magical seabeds, crystal clear waters, a rare ecosystem, and endless peace to visitors. The island is 9 miles away from Makrys Gialos, and the boat trip lasts about 1 hour.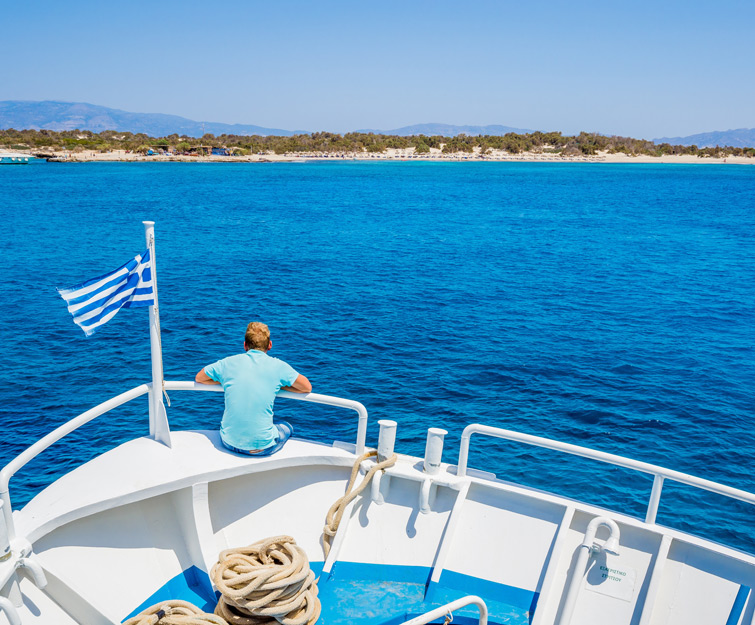 Chrissi Island (Gaidouronisi) Trips
In the Middle Ages it hosted hermits and, during the Byzantine times, it was an important center of the salt trade and a source of purple. Nowadays, Gaidouronisi or "Chrissi" is uninhabited but welcomes hundreds of tourists who visit it with day trips by boat to get acquainted with the rare paradise that "adorns" the Libyan Sea, 8 nautical miles south of Ierapetra. At an area of just 4,743 sq.m., it hosts a cedar forest of unique beauty, the largest in the Mediterranean, with 300-year-old cedars, and is a Wildlife Refuge and "area of intense natural beauty" included in the NATURA 2000 network.
The beautiful beaches, sometimes sandy and sometimes rocky, occupy various parts of the island, but it is easy to get to know them all. The boats that make day trips leave you in the southern region, in "Vougiou Mati" where the South Beach is located, with a sandy beach and shallow waters. From here, in just 5-minute walk, we reach the northern part, where we meet the most popular beach of the island, Chrissi Ammos or Belegrina, with fine sand with shells and clear blue waters, Kataprosopo beach, with fine pebbles and finally, Hatzivolakas, with pebbles and dunes. Boat itineraries run daily from Ierapetra, from mid-May to the end of October, and the journey lasts less than 1 hour.